The Stagcom Monday roundup
With all the fun and frolics of Christmas and New Year behind us, it's time to make our dreary return to real-life. The weather is still miserable and we'd all much rather be tucked up in our beds at home. But don't worry, we're here to help you through the day with our roundup of some of the things you may have missed over the weekend.
Someone is recreating pop diva's Instagram posts
There are countless people on Instagram who clearly wish they lived the life of a celebrity, but nobody does it quite as well as this guy! Mina Gerges, a Canadian student living in Ontario, has taken it upon himself to recreate Instagram posts from some of the biggest divas in the world. Beyoncé, Kim Kardashian, Nicki Minaj, Rihanna, nobody is safe!
http://instagram.com/keepingupwithmina/
A man spent £300 on surgery for his constipated goldfish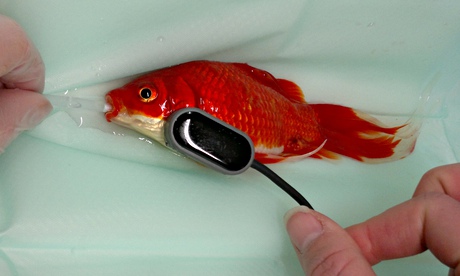 Nobody enjoys being constipated, but usually you can deal with this by eating more fibre or taking a laxative. But what happens if your beloved pet suddenly has toilet issues? Well, if you're this goldfish owner from Norfolk you'll take your pet to your local vet and pay £300 for surgery! The goldfish was knocked out using anaesthetised water and had its heart rate monitored with a tiny probe. And in case you were getting worried, the fish has apparently made a full recovery and will live to swim another day!
Guy performs 'The Cup Song' from Pitch Perfect with loaded guns
After Pitch Perfect was released a couple of years ago, it was hard to go anywhere without hearing 'The Cup Song', made famous by the sexy Anna Kendrick. Well, Jim Huish of Orem, Utah has just cranked things up a notch and made this female favourite an instant manly classic. How, I hear you ask? Simple, with the addition of loaded guns.
Steven Gerrard announces his departure from Liverpool F.C
Liverpool fans were heartbroken last week, when it was announced that home grown hero, Steven Gerrard, would be leaving the club at the end of the season. It was later revealed that he would be following in the footsteps of Robbie Keane and David Beckham and moving to America to sign for an MLS team.