The Stagcom Monday 27th July roundup
Clarkson and co drive smug Down Under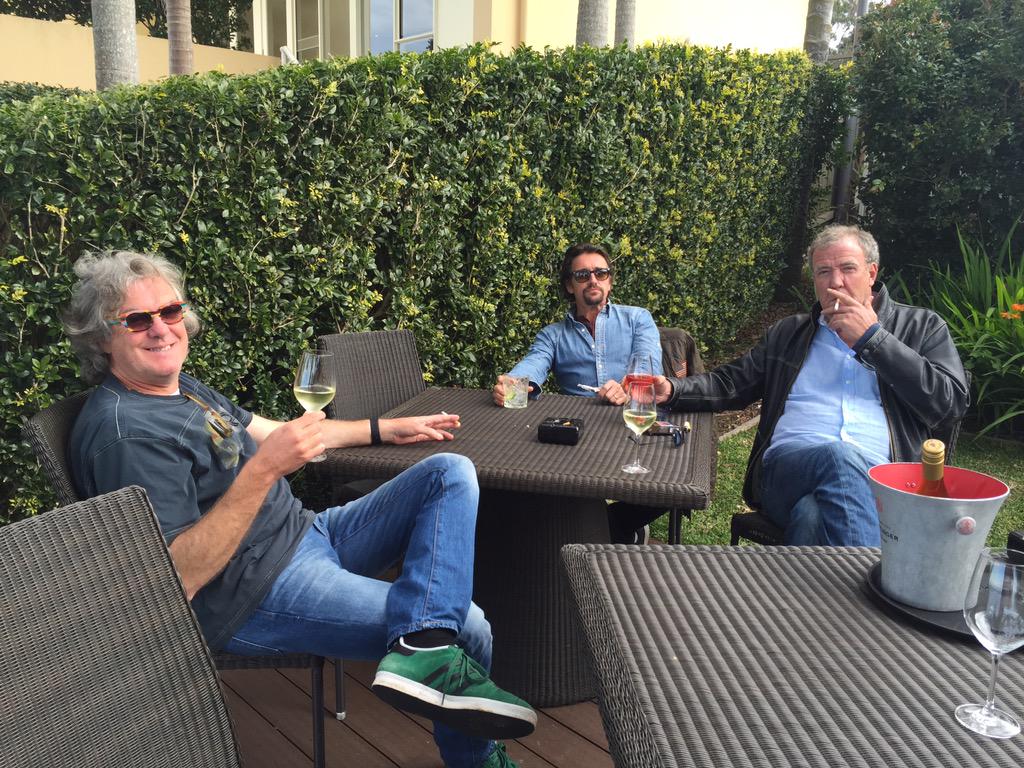 What do you do after the Beeb fires you for punching a producer? You go off on a lads' holiday down under, with your two bezzies and a camera. That's what Jezza Clarkson did: and to avoid being papped by the Aussie press, he even took pictures of himself chilling with Hamster Boy and Captain Slow and posted them on Twitter.
The fake pap pics, which read 'To save you the bother. Here we are. Cheeky wine. Crafty fag. Trademark jeans. Signature style etc etc', and 'Tell the Splash guys to go home. We're old and fat and we've sparked fury', show the three exiled presenters enjoying booze and snouts in a swanky garden. Who needs a job?
X Files LEGO
YES. Nerd wet dream Gillian Anderson has been campaigning for an X Files LEGO set. Apparently, prototypes of themed minifigures and props from the show were posted on Flickr by a LEGO designer, Brent Waller, and Anderson loved them so much she's started a Twitter campaign.
The Danish toy company, which is currently the most powerful brand in the world (according to asset valuers Brand Finance), reckons X Files' adult themes make it unsuitable for a set. I think they might be underestimating the power of an Anderson-led Twitter campaign. After all, her last one (along with nerdist.com) did manage to get Fox to film a whole new series of the cult TV show.
The new X Files is due to air in January 2016. The truth is still out there...
Tom Cruise does silly things with planes - again
That crazy Tom Cruise, eh? If he isn't having an entire channel named after him on Sky Movies, he's hanging onto the side of a speeding aircraft. You just never know what he's going to do next.
The last true movie star was seen recently clinging to the fuselage of an Airbus A400M as it hurtled down the runway at RAF Wittering doing 185mph. He wasn't doing it just to get his kicks, though. The stunt is the latest in a long line of Cruise set pieces to feature in Mission Impossible movies. This one's unveiled in Mission Impossible: Rogue Nation, which opens in the UK on July 30.
And yes, it really was him holding on by his fingers. Talk about getting into the role!