The Stagcom May Bank Holiday Round Up
Spent the whole bank holiday weekend drunk, asleep or a combination of the two? No idea what's going on in the world? We've scoured the web for funny/interesting/bonkers stuff so you don't have to.
In this week's Tuesday roundup:
Red Dwarf is back!
Fresh Star Wars: The Force Awakens pictures released
NASA's invented a 'warp' drive
Pacquiao scorecard conspiracy
Two New Red Dwarf Series To Air on Dave
Yep, it's really happening. Everyone's favourite smegheads Lister, Rimmer, Cat and Kryten will return for Red Dwarf XI and XII, set to air on Dave in 2016 and 2017. According to Empire, production starts this autumn.
Craig Charles is leaving Coronation Street for a while to return to the show: 'I feel I owe it to my colleagues on Red Dwar to join them in filming the new series and finding out what is in store for Lister and the others.'
New Star Wars The Force Awakens Pictures Released and Characters Revealed
Vanity Fair has published exclusive pictures of new characters in its June issue, and confirmed a few rumours that were flying around. Adam Driver is definitely playing baddie Kylo Ren, and Lupita Nyong'o will take the role of pirate Max Kanata.
See the new pictures and a video of stars on set here: http://www.vanityfair.com/hollywood/2015/05/star-wars-force-awakens-photos
NASA has Invented a 'Warp Drive'
According to London rag the Metro, Nasa has invented a Star Trek-style 'warp drive' that could in theory zap people to the Moon and back in four hours. Not quite as speedy as Scotty's but pretty impressive nonetheless! The new drive is currently being tested, and the goal is to make it travel even faster than the speed of light. The drive's electromagnetic system works solely on electrical energy, rather than fuel.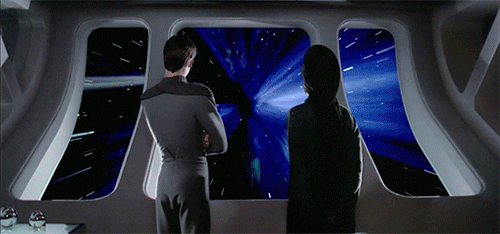 According to the laws of physics, it should be impossible. Like a plane taking off, it's something that's a tad tricky to explain, but if the boffins can perfect it, space may no longer be the final frontier!
Scorecard Conspiracy Puts Mayweather Victory in Doubt
Conspiracy theorists are calling Mayweather's victory over Pacquiao fight into question after it was discovered that the judges marked him in the wrong corner. Mayweather won on points but the official score card puts him in the red corner, when he was actually in the blue one. There's also the matter of Pacquiao's shoulder injury. Fix or fair fight? Social media will no doubt decide in the next few days!